Sea Change: Survey on the 60s
Once upon a time it was the 1960s …
Were you alive then? Where were you? What were you doing?
What difference did this decade make in your life?
In what ways do you think the 1960s has shaped the world we live in today?
You are invited to join a conversation about the 1960s …
To compare your own experiences with others
To reflect on how these experiences shaped you individually and our culture in general
To consider ways the visions and new ideas of the sixties might be relevant today
During the Sixties, our culture changed faster than before and many people emerged into the 1970s having experienced something radically different from what anyone would have expected a decade before. This radical shift inspired and empowered many people to invent new ways of living, in greater harmony with the earth, with the diversity of cultural expressions, in greater freedom and openness to our own and others' creativity and ability to live sustainably and in peace, with justice for all.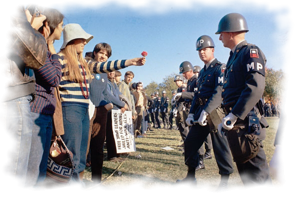 ---
This page is a portal to 1960s related projects.
1. A Book in Progress —
Sea Change: How the 1960s shaped the world we live in
2. A Conversation with several components
---
Workshops (available for your group/area)
Crone Curriculum for women (available to order)
SUBSCRIBE in the box at left to receive updates on the conversation and book.
Note: Nothing you share on this website via the survey or participation in social networking will be quoted or used without your permission. The goal is to learn from the exchange of ideas and stories, so we might all enlarge our perspectives and deepen our understanding of ourselves and society. Thus we may speak in general terms about what we do here.
This website is being created by Dorothy May Emerson, from Rainbow Solutions.
A Book in Progress: Sea Change: How the 1960s shaped the world we live in
 If you include your e-mail address, you will receive a copy of your survey entries.
You may download a Word document you can fill out and e-mail back: Survey on the 1960s