Bring in the May with joy! The ancient Celtic name for May 1, the mid-point between the spring equinox and summer solstice, is Beltane in honor of the sun god Bel. As the sun quickens the earth to life, human passions run high.  All-night festivities and hill top bonfires are traditional in northern Europe on May Eve. One tradition holds that if you bathe your face in the dew on May Day morn, your youthful beauty will never fade. Oops, I think I'm reaping the consequences of having been a slug-a-bed for all these years.  However, I want to celebrate this May Day with a burst of color on the eye and sweetness on the tongue, by reaching back through time and allowing my younger self to re-emerge and dance with my crone self. What wisdom will our union bring?
This week I am taking my first solo vacation since 1970, the summer I turned 21 and traveled around England alone for two weeks. Now I'm going to New York City to attend a performance of the four operas that make up Richard Wagner's Ring Cycle. England and Wagner each played an important role in my girlhood dreams of the woman I wished to become. An avid reader of the Romantic poets and the novels of the Bronte sisters, in England my itinerary was a series of literary pilgrimages. Walking alone along the path from Rydal Mount to Grasmere in the Lake District, where woods open upon green swards dipping toward gleaming lakes, and across the Yorkshire moors to the old farm house Emily Bronte envisioned as Wuthering Heights, were formative experiences that seeped deep into the landscape of my soul.
Wagner stirred my romantic spirit as I listened to "The Ride of the Valkyries" and overtures to his operas. The Flying Dutchman was my favorite—I dreamt of sacrificing myself to save a beloved other. I would have loved the Dutchman and died to end his curse. There are many things to object to in this scenario, but such was the heart of the young woman I invite to companion me now. I applaud her courage at navigating the world on her own and am grateful her spirit still lives in me.
On spring equinox just six weeks ago, I sat in the Chalice Well garden in Glastonbury, England where iron rich waters bubble up from an ever-abundant stream. I listened to a guided meditation that counseled the importance of finding balance within oneself before attempting to create it in the world. The day bloomed with daffodils and flowering trees and crackled with an open fire, live music, and hot soup savored while sitting on a stone bench with my daughter under the loving gaze of the Glastonbury angel. On our way to climb Glastonbury Tor, we discovered a cave carved out over time by the flowing waters of the Chalice Well spring. Here the sacred water pools, and stone recesses have been turned into grottos in which hundreds of pieces of cloth (clouties) have been tied to a latticework of branches overhead. Unable to rip a piece of cloth from her long flowing skirt, my daughter folded the gold-paper of a candy wrapper into two narrow strips that we used to tie our prayers to a branch. I do not remember my prayer, only the answer. Be grateful for life, for all of it, the good and the bad. Be grateful to be here in each passing moment. The power of the place pressed itself upon me and demanded that I hear and remember.
To live is to be part of an ever-changing cycle of birth, growth, death, and rebirth. To grow one must let go, risk loss, accept change, and fall into a new normal, a new cycle. Our individual actions are small vibrations that set off ripples in the web of life. We are often selfish and self-serving. I struggle over and over to see the plank in my own eye while suffering no end of annoyance because of the speck in my neighbor's eye. Yet, doing this inner work increases my compassion for others and for myself. Although, I don't always succeed. I live to try another day, for which I am grateful.
Recently, I discovered the early 20th century artist Hilma af Klimt, who channeled many of her expressionist paintings. I had hoped to see her work at the Guggenheim Museum in New York, but the exhibit closed last week and is moving on to Chicago. On the web I found her painting of two intertwined swans—one black and one white. One possible interpretation is that the swans represent the joy and sorrow in life and the importance of embracing and learning from both. Perhaps this is the wisdom we bring to the dance with our brave young selves as we circle together in gratitude for being alive.
Beltane blessings,
Melody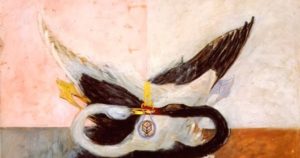 Letters of Gratitude
Write a letter of gratitude to your maiden self. Thank her for her strength and courage in facing life and tell her something you have learned from living it. Do something today that brings you joy and honors the youthful spirit still alive in you.