Reflections
Seductively bright, the summer solstice is upon us. While joyous dances and bonfires into which herbs with magical properties are thrown mark June 21, the longest day of the year in the northern hemisphere, beneath the blazing sun on the Texas/Mexico border, children are being separated from their parents in a drama that lacerates the heart and stains the collective conscience of America. Images of children ripped from the arms of those who love them in a strange land at the end of an arduous journey fill us with horror. Willfully inflicting the trauma of separation on children and parents seems unbearable and casts a long shadow over their young lives and the brightness of this season.
Summer solstice is a time of joy and freedom for many children. I recall setting paper boats with lit candles in their center afloat on a river with my son when he was young and seeing my daughter and her friends play dress up with gauzy fairy costumes at an outdoor summer solstice gathering in New Hampshire. Summer evokes memories from my own childhood of chasing fireflies and rushing indoors from play just as the first heavy drops of rain fell during an afternoon thunder storm.
At summer solstice the Goddess of the Land is in her Mother phase ripening toward harvest, in the bloom of pregnancy, promising abundance for all. We grandmothers of the world hear not only the laughter of innocent children but also the cries of those who are lonely and afraid having been separated from those they trust and love. We must not avert our gaze but must remain steadfast in guarding the young.
During a walk on Father's Day, I observed a juvenile hawk sitting in the low branch of a tree. It sat quietly turning its head taking in its surroundings and looking out for prey. Its presence caused loud consternation among the robins who were no doubt protecting nestlings in that same tree. They squawked ceaselessly at this young predator whose own parent passed nearby in silent flight also keeping watch. Life demands vigilance and strong efforts of will to protect our children from the forces of destruction that are always present.
Providing protection for tender growing things is one of the themes of summer solstice rituals. Traditional healers and current day herbalists create bundles of summer blooming plants to place over doorways to protect the animals and humans that dwell within from disease and discord. One such plant is vervain, a slender perennial with multiple small flowers blooming atop long leafy stems. This herb has many sacred associations. Traditionally it was used to banish evil and negativity and invite joy into the home. In Roman times it was placed on public and private altars. In fact, its alternate name, verbena, means "altar" in Latin.
Ancient Egyptians called this plant "tears of Isis" after the  goddess who walked the land searching for her consort Osiris. Wherever the tears of the goddess fell vervain sprang up. Also known as the "herb of the cross," vervain is said to have been the balm applied to the wounds of Jesus. The flowers and leaves of this plant are made into a tea to induce relaxation to ease a tension headache, increase the flow of a nursing mother's milk, or to open our minds to the unseen world.
Slender verbena is one of the summer wild flowers that bloom in Texas. It can be found at the Lady Bird Johnson Wildflower Center in Austin. All the living First Ladies of the United States have spoken out against the practice of separating families at the border. In the gentle, healing spirit of vervain, Lady Bird Johnson adds her voice. May all women join them in protest. The goddess weeps to hear the lonely, frightened cries of children and the heart-broken wails of mothers and fathers. We mourn with the goddess while working to see that justice is done.
May the long-time sun shine upon these lost children held hostage for political gain and grant them courage. What is done in fear, greed, or anger to the weakest among us is done to us all. Let us dance with one heart rejoicing in the life we share and with gratitude for the warmth of the sun.
In the spirit of peace,
Melody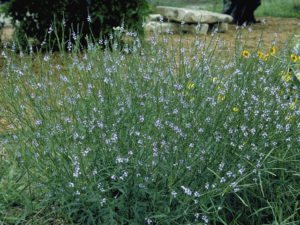 Vervain blooming in Lady Bird Johnson's Wildflower Center.
A Summer Solstice Prayer
Mighty sun, great shining one, bless us this day. Give us strength to protect the weak. Give us courage to speak for those who cannot speak for themselves. Fill our hearts with love and compassion for one another, for no matter to what group, nation, or ethnicity we belong, we are all one under the sun.